When the Titanic broke apart during the final stages of the sinking, she split in two in the area of the aft First Class Grand Staircase. While involved in the Titanic victim body recovery mission the Anglo American Cable Ship C.S. Minia recovered numerous sections of wreckage that were obviously once a part of the staircase. Newel posts, carved hand railing borders, and even two intact steps from the Grand Staircase were found floating in the open sea and were taken aboard by the sailors working on the Minia. Once plucked from the sea, the crewmen set about turning these relics from the great ship into everyday useable objects.
This piece of the Titanic's aft Grand Staircase, measuring 9" x 2.75", is believed to have once been a part of a step or a step back panel recovered by the Minia. It was turned by the ship's carpenter, William Parker, into a well-known picture frame which he crafted for Chief Officer, James Adams. Incorporated into this unique picture frame were intricate carved balustrade sections from beneath the handrail, cut brass brackets originally part of the decorative brass strip which ran across the entire front of each Grand Staircase step lip, and hardwood lengths such as this example which Parker used for the back of the frame.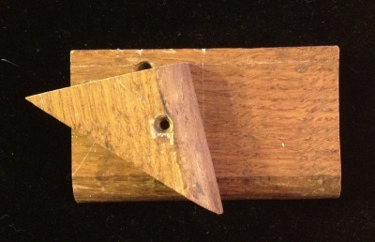 For years, following the disaster in 1912 and following the tragic death of Adams in a train/vehicle collision, this picture frame remained in the family passing into the hands of Gerald T. Mullin, the grandson of James Adams. In the 1990's the picture frame was publicly displayed as part of a special Titanic exhibition presented by the Vancouver Maritime Museum in Canada. In July of 1998, Gerald T. Mullin of Victoria, British Columbia, sold the frame which was dismantled in August of the same year.