Famous "Beach Boy" Titanic deck chair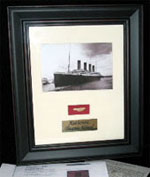 Authentic Titanic wreck wood framed display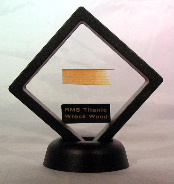 Very affordable slice of Titanic wreck wood
Titanic Museum
---
I am pleased to bring you one of the world's largest and best private Titanic collections, featuring possibly the greatest gathering of authentic RMS Titanic fabrics, as well as a large group of other rare and priceless artifacts. There is pine deck wood, beautifully carved large pieces made from authentic wreck wood, a complete deck chair from both the Titanic and Carpathia, and other iconic rarities. It is 100% U.S. Disabled Veteran owned and operated.
This entire collection was on a special exhibit at the Ronald Reagan Presidential Library, located in Simi Valley, California and The National Geographic Museum (NatGeo) in Washington DC. Currently several pieces are on loan at the Branson, MO and Pigeon Forge, TN Titanic Museums.

Buy an authentic Titanic artifact for under $100

This site is also one of the very few, if not the only, place on earth that regularly sells real Titanic artifacts (not fakes or reproductions). Shop at our store were you can purchase a variety of actual relics from the Titanic affordably priced...certainly not out of reach to the average collector.
I hope you enjoy the online museum and the history behind each piece.
Kevin Saucier
President & Curator
---
Please visit our friends at TitanicRelics.com to view other priceless artifacts!

Helping collectors - Find out how to identify fake paper collectibles, such as posters, postcards, cards and other high-end paper relics. Shown with detailed examples.